The Art of Making and Giving Money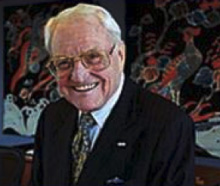 In 1999, I sold my company, At-A-Glance, to Mead Paper Co. for $550 million. Shortly thereafter, my wife Dorothy and I decided to pledge or give a majority of it away since most of our needs were taken care of.
My first advice about philanthropy came from my mother. She said, "Who cares what is said about you after you're dead?" And now, from personal experience, I encourage giving while one's alive. Dorothy and I have never had such enjoyment in giving it away.
My advice has always been, "The buck you make yourself is your own; the buck you inherit is full of all kinds of psychological baggage."
As a New Yorker, I'm mostly interested in education, the arts, climate change, and helping economically disadvantaged young people. A variety of charities now have the pledges for most of our money. My favorites include The Museum of Modern Art, The New York Botanical Garden, The American Museum of Natural History, and Chess in the Schools, among many others. Chess teaches kids logic, strategy, and planning ahead. Some of the kids in our program have grown to be productive citizens.
My memoir, "Can't Take It With You – The Art of Making and Giving Money" (Wiley) tells my history of pioneering the first leveraged buy-out, how I made money, and my philosophy of giving it away.
The free booklet that I wrote, "How to Succeed in Fundraising By Really Trying," has been ordered by thousands of people or downloaded from LewisCullman.com. Those of us who give money can be very effective at raising money. The booklet provides some common-sense ways to avoid mistakes and stay on track.
My controversial belief is that no foundation should last longer than 50 years. After you're gone, the money you wanted to give away may be warehoused for paying staff and lawyers who may want to stay on in perpetuity.
Charities and services need money now. I feel confident that the next generation will take care of the problems of the future. In the meantime, giving your money away while you're alive brings a great joy.
Copyright © 2011 Bolder Giving. All rights reserved.
Used by permission.
Inquiries regarding the use of this content should be directed to info@boldergiving.org