Values-Based Giving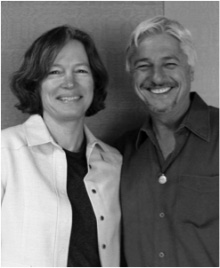 When Lisa and Charly Kleissner need to make a big decision, whether it impacts family, investments, or philanthropy, they first look to their values. Since one of their strongest values is making a positive impact with everything they do, it should not be surprising that the Kleissners have made a key decision to ensure that all their assets are working toward improving the environment and the lives of people throughout the world.
In 1999, Charly was working as a high-tech executive in Silicon Valley, and Lisa was working as an architect. Each had investments in several startups, and when those companies went public in 1999, their financial picture changed dramatically.
Charly and Lisa worked with Navitas, Ltd., a values-driven wealth advisory, to figure out how much their family needed to support their lifestyle. As a result, they determined that they could put 70% of their assets into charitable instruments. These instruments include a family foundation, the KL Felicitas Foundation—felicitas is Latin for 'happiness'—and charitable remainder trusts.
The vision informing the Kleissner family's philanthropy was not always as focused as it is today. Initially, Lisa's giving, largely focused on the Bay Area, was separate from Charly's. Also, she had an interest in impact investing, but had not yet found a way to incorporate this in their investment strategy.
Through a series of meetings with their philanthropic and investment advisors, a unified vision for the foundation emerged, where the couple's and the foundation's assets were aligned with their joint values and philanthropic goals.
This excited the Kleissners, who were beginning to see how productive their collaborations could be. "We have very complementary skills," Charly says, "which allows us to accomplish things together that individually we otherwise could not do." They decided to focus on enabling social entrepreneurs and social enterprises worldwide to grow sustainably, with an emphasis on rural communities and families.
Their two adult children are actively engaged in the philanthropic decision-making, and the Kleissners credit this to early exposure and engagement with global issues and philanthropy. As Lisa states, "Our approach with our children was not to talk about philanthropy, but to make it experiential while they were still a captive audience... before they went off to college!" Their exposure included travel and work abroad, and engagement with many of the family's early philanthropic investments.
The Kleissners have dedicated countless hours and utilized their skills, networks and know-how to impact what they are passionate about. While their philanthropic investments are easy to measure, sometimes their personal investment of time is harder to apply metrics to. As Lisa states, "We've tried to put our arms around the metrics of it, but it's very difficult when you go out and speak to a group to know who is going to walk away with a spark that's going to mean that they go to their investment advisor and change the way they do their investments. I'm glad to say that much of the feedback we've gotten has been amazing— investors are moving dollars into this space in part due to our work."
In order to measure the impact of their investments, the Kleissners have adopted the IRIS—Impact Reporting and Investment Standards—taxonomy, an effort supported by the Global Impact Investing Network. Charly clarifies, "The lack of agreed upon metrics is not an excuse for us to not measure the impact utilizing emerging standards like IRIS. We aim to show that utilizing a standard like IRIS is feasible and meaningful even for a small foundation like ours."
The Kleissners' approach to their investments and their capacity building in the fields of entrepreneurship, social enterprise and philanthropic leadership is a highly leveraged use of their time, talent and capital. For a small foundation, KL Felicitas is punching well above its weight and making the world a much better place.
Copyright © 2011 Rockefeller Philanthropy Advisors. All rights reserved.
Used by permission.
Inquiries regarding the use of this content should be directed to info@rockpa.org